Elgato EyeTV Hybrid USB TV tuner for Mac
All you need to make a Mac a media centre?
Review There are plenty of compact, USB-connected TV tuner dongles for the PC but nowhere near so many for the Mac. Elgato's EyeTV Hybrid is to be welcomed then, not only by owners of portable Macs looking for a handy tuner but by anyone who wants to turn a Mac Mini into a DVR or a media centre system...
As the gadget's name suggests, the Hybrid has both analogue and digital tuners on board, so it's well prepared for the Freeview era. Its metal-look plastic casing is ideally at home with a MacBook Pro, PowerBook or Mac Pro, but it doesn't look out of place hooked up to any other modern Mac.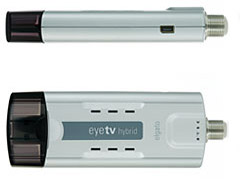 One end is home to the USB connector - a cap's provided to keep it safe when you're travelling - while the co-axial aerial port is on the opposite end. Elgato bundles an antenna along with an s-video/composite-video breakout cable that fits into a tiny port on the side of the EyeTV hybrid.
That's useful because it provides a feed for other media sources - VHS decks, DVD players, set-top boxes. Audio comes courtesy of a 3.5mm socket, but Elgato provides a plug-in adaptor with a 3.5mm jack on one side and a pair of RCA connectors on the other.
Completing the bundle is a copy of the company's EyeTV DVR software, now upgraded to Universal Binary form for native performance on Intel-based Macs. This is really the heart of the package, and looking at the features it provides and its user interface, it's no exaggeration to say Elgato's app is streets ahead of other software of its kind that we've looked at.
Out of the box, EyeTV is ready for terrestrial digital TV across Europe, Australia, Canada and the US, along with a selection of Asian nations, including Taiwan and Japan, with connection depending on the hardware you've got hooked up to your Mac. Interestingly, it also picked up the BBC's HD TV test channel, but would only play the sound - attempts to view the visual content popped up a 'missing codec' message, so the potential's there for HD viewing in due course.
Sponsored: Quit your addiction to storage