US outfit patents 'invisible' UAV
Stealth through persistence of vision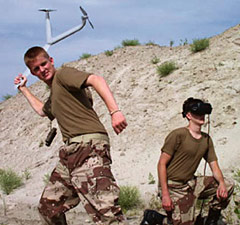 A US unmanned aerial vehicle (UAV) manufacturer has been granted patents on an "invisible" surveillance platform which relies on persistence of vision to achieve stealth, Aviation Week & Space Technology reports.
Minneapolis-based VeraTech Aero's "Phantom Sentinel" is a "single blade rotorcraft" offering "the ability to deliver close up, real time video intelligence within 75 feet of nearly any event and remain virtually undetectable to the human eye".
The company's blurb explains:
Based on the concept of persistence of vision, the Phantom's single rotor blade has a center of rotation outside of the UAVs' physical fuselage. As the aircraft spins, it disappears from vision. The Phantom has a uniquely minimal cross section allowing it to "slice" through even the most adverse weather conditions that would keep conventional UAV systems on the ground. The rotational inertia generated in flight allows the UAV to self level and maintain a very high degree of stability, even while hovering.
VeraTech Aero reckons the technology is scaleable from two to ten feet, requires "limited training" and can deploy a "high speed camera offering 360 degree spherical viewing". Alternatively, it can be used to hunt kangaroo, as the picture shows. ®
Bootnote
Thanks to Mike Plunkett for not spotting the Phantom Sentinel.
Sponsored: From CDO to CEO