Online manuals enable ATM reprogramming scam
Money for nothing and your gas for free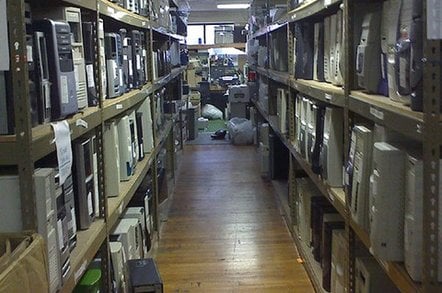 Reprogramming an ATM to dispense more cash than it ought to is far easier than anyone imagined.
Last week CNN screened a video of a man suspected of reprogramming an ATM to dispense $20 bills that it thought were $5 notes, so fraudsters and the unscrupulous were able to withdraw four times more money than was debited from their accounts.
The suspected perp didn't reprogram the Virginia gas station machine after he pulled off the scam, so it continued to dispense more money than it should have for nine days, until some honest individual pointed out the problem. The suspect used a pre-paid debit card to make withdrawals, making it harder for police to track him down. These difficulties prompted investigators to go public on the scam, which was carried out last month, in the hope of identifying the suspect from CCTV footage.
The hack was far from sophisticated. Security researchers have discovered that ATM manuals for the Tranax Mini-Bank 1500 Series, the machine involved in the Virginia scam, can be easily located online using nothing more fancy than a Google search query, eWeek reports. These manuals explain how to switch ATMs into diagnostic mode, where its possible to reprogram ATMs in the way carried out in the Florida gas-station hack, for example.
Would-be fraudsters would still need a PIN code in order to be able to access functions normally only available to installation engineers but the manual lists typical factory-set default passwords. So unless machines have been set up properly, they are wide open to abuse. It seems the hack is limited to Tranax's line of mini-bank terminals, though that's unclear. Tranax has delivered 70,000 ATMs, self-service terminals and kiosks across the US. Many of these installations involve the Mini-Bank 1500 machine that was the target of the Virginia hack, so the potential for abuse is clearly high.
We can only hope that the wave of publicity over the scam will prompt Tranax into action so that the scam is nipped in the bud. At the very least it ought to pull the copies of its manual offline. In theory these manuals are only available to authorised distributors or service providers though at least one Canadian-based reseller of Tranax terminals has left this information easily available to all and sundry. The Virginia hack shows at least some crooks already have their hands on this information. ®
Sponsored: What next after Netezza?