Astronomers ID Saturn's newest ring
Stunning snaps, Cassini style
Saturn has another, very diffuse, outer ring identified by astronomers working on the Cassini imaging data at NASA's JPL laboratory and the Space Science Institute in Boulder.
The ring showed up in a photograph taken on 17 September, in what scientists are calling a "one of a kind" observation.
Cassini's cameras can't look towards the sun, except during so-called occulations, when the planet passes between the sun and the spacecraft. These occultations generally only last for around an hour, leaving little time for observation work. But on 17 September, Cassini found itself flying in Saturn's shadow for 12 hours.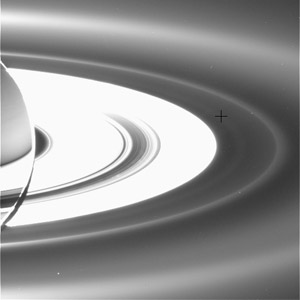 Backlit, saturn's rings look entirely different. In the same way that a car windscreen suddenly looks very dusty when one is driving towards the sun, new features of the rings show up in the diffracted sunlight.
The newly identified ring is very diffuse and shares its orbit with the moons Janus and Epimetheus, just inside the E and G rings. Scientists say they were surprised to discover such a well defined ring in this region, although they had expected meteoric collisions with the two moons might throw dust into the main planet's orbit.
The occultation also gave the team time to study the E ring in more detail. The images sent back show the moon Enceladus moving through the ring, leaving wispy projections in its wake. The research team suspects these are left by tiny ice particles that erupt from the geysers at the moon's south pole as they enter the E ring.
The occlusion also allowed researchers to point the cameras back at Earth. The image they recorded is the first colour picture of Earth taken from the outer solar system since the Voyager 1 mission.
"Nothing has greater power to alter our perspective of ourselves and our place in the cosmos than these images of Earth we collect from faraway places like Saturn," said Carolyn Porco, Cassini imaging team leader at the Space Science Institute, Boulder.
"In the end, the ever-widening view of our own little planet against the immensity of space is perhaps the greatest legacy of all our interplanetary travels."
You can check out more of the images here. ®