Hitler net cartoon ruffles German feathers
Der Bonker kerfuffle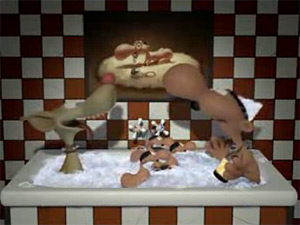 A German satirical cartoon featuring a singing Adolf Hitler in his bunker in 1945, lamenting his fate, has proved an internet hit for illustrator Walter Moers, The Guardian reports.
Der Bonker shows the dicatator sitting on the toilet moaning about Churchill, and in the bath with his dog Blondie and three Hitlerian rubber ducks which are trying to persuade him to surrender.
While fans of Moers' comic books "depicting the dictator as a frustrated little man who throws fits every time the Jews are mentioned" have flocked to the net to enjoy the show, the video has ruffled a few German feathers.
Jewish author Ralph Giordano said: "You cannot treat the father of the Holocaust in this way."
Berlin Holocaust Memorial co-founder Lea Rosh said she does not believe "that this is a topic that one can make jokes about".
Several TV companies agree, and MTV, ProSieben, RTL2 and Viva have refused to air ads by the Jamba ringtone company, which "offers the clip as a mobile phone download".
Jamba spokesman Niels Genzmer said the boycott was having little effect, with Der Bonker still among the top five most popular downloads. He added: "First we were told it promotes right wing extremism, then we were told it could be conceived as doing so. We cannot comprehend this."
In defence of Der Bonker, Jewish publicist Henryk M Broder weighed in with: "That Hitler was a murderer - we know that, it doesn't have to be the topic of every thesis. But Moers shows wonderfully what kind of a wretched, useless gasbag the Germans fell for. And that's groovy." ®