Japan to get Xbox HD DVD drive on 17 November
Console to get 1080p support with software update
Microsoft will ship the Xbox 360's eagerly anticipated external HD DVD drive to Japanese consumers on 17 November, the software giant revealed today at the Tokyo Games Show. The announcement paves the way for similar declarations concerning the peripheral's launch in the US and Europe.
According to Microsoft Japan, the HD DVD will retail for around ¥19,800 ($168/£89/€133) before local sales tax and come bundled with a remote control unit.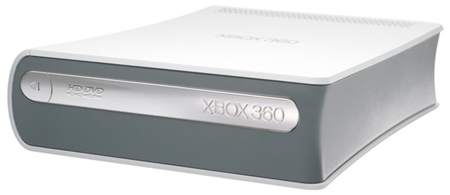 The company also said it would shortly post an Xbox 360 firmware update that will allow the console to output video content at the 1080p HD resolution. What it didn't reveal was how it plans to equip the console with an HDMI port to allow pre-recorded HD DVDs that require HDCP anti-piracy support to be displayed at full resolution.
Microsoft employees recent rejected claims the company was already at work on a second-generation Xbox 360 equipped with an internal HD DVD drive. ®