Asus unveils 'first' music streaming Skype phone
Stream songs to your VoIP box
Asus has launched what it reckons is the world's first wireless music Skype phone - a Wi-Fi enable handset that doubles up as a speaker for songs streamed from a PC.
Dubbed the AiGuru S1, the handset connects to a PC running Skype across any local 802.11b/g wireless network. It supports all the usual Skype features - SkypeIn, SkypeOut, conference calling, voice mail, contacts etc - and is fitted with a 750mAh battery providing 2.5 hours' talk time Asus claimed.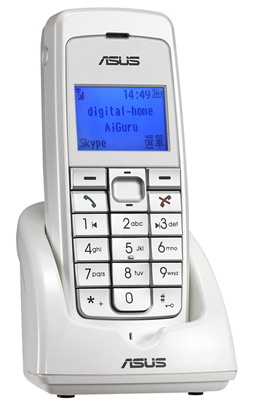 The 11.7 x 4.6 x 2.3cm handset also contains a 0.5W speaker for hands-free calls. You can use that to listen to music too, or plug in a pair of earphones into the handset's 3.5mm audio socket. Asus said the device can be used to control Windows Media Player remotely.
Asus didn't say when the S1 will ship, where it will ship or how much it will cost when it does. When we hear more, we'll let you know. ®