Adaptec plays Snap with low-end filers
Yes to Active Directory, no thanks to Windows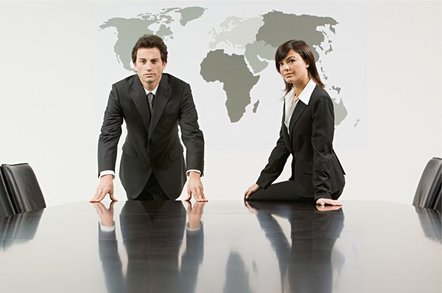 Adaptec aims to sort out confusion in its NAS product line with new low-end filers that run the same software as its larger models, and can therefore integrate with Microsoft's Active Directory.
The new devices are the single-disk SnapServer 110 and the dual-disk SnapServer 210, both of which are free-standing and non-expandable. Next month the company will add a third model, the rack-mount SnapServer 410 which, as the name implies, will feature four disks.
All three run a trimmed-down version of the Linux-based Guardian operating system, which is already used on larger Adaptec filers such as the 500 series launched earlier this year. This allows Adaptec to standardise its SnapServer management and file replication software across the range, the company said.
GuardianOS supports Active Directory and also iSCSI, so SnapServers can provide block-based access to storage. However, iSCSI will be optional on the new devices. Adaptec's European sales director Andy Walsky said he doesn't expect many people to need it on low-end NAS.
He added that third-party benchmarks show the new SnapServers are significantly faster than filers from competitors such as Dell and HP, which use Windows Storage Server.
"We have the most installed NAS in the industry," he claimed. "We are doing something a bit differently, not using a dumbed-down Windows."
He added that having GuardianOS across the range allows Adaptec to offer systems that can automatically back up remote office PCs to local NAS, then replicate that to a bigger NAS box at a central site for archiving to tape.
Adaptec's existing entry-level NAS range - the 1100 the 2100 - run SnapOS, which is based on BSD Unix and will not be upgradeable to GuardianOS as they lack the processing power, Walsky said.
The NAS devices come from Adaptec's Snap Appliance subsidiary, which originally came from Quantum, was bought by Adaptec two years ago, and was nearly sold on again earlier this year.
However, Adaptec decided to keep Snap as it saw big opportunities for growth in the small and medium business (SMB) sector, said president & CEO "Sundi" Sundaresh.
"The big NAS vendors tend to take high-end things and move them down," he said. "We don't have to worry about dumbing-down our products for the SMB."
He added that part of making the Snap operation profitable was a business plan that included doing more development inhouse - the company currently licences a number of the apps that ship with its NAS boxes, but will now develop more software of its own.
And he said the next plan is to offer appliances with storage applications on top of a filer. He refused to specify exactly what those might be, but said he foresaw SMBs needing such things as backup-to-disk, virtual tape libraries, and file replication.
The SnapServer 110 comes in sizes from 160GB to 500GB, while the 210 offers 500GB or 1TB. Prices range from £299 ex-VAT for 160GB to £999 for 1TB. ®