MSI declares CrossFire on Intel P965 chipset 'first'
Driver jiggery-pokery?
MSI has managed to get Intel's P965 chipset to support ATI's CrossFire, enabling the system on its P965 Platinum motherboard - an industry first, the company claimed today. So far, the multi-GPU technology has been limited to ATI's own chipsets and to Intel's 975X chipset.
The P965 Platinum ships with a pair of x16 PCI Express slots, though only one of them is connected to 16 PCI-E lanes - the other connects to four lanes. It's these two slots MSI expects you to connect your two CrossFire-ready graphics cards to.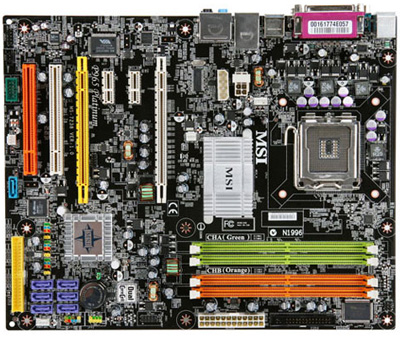 Quite how all this works, MSI hasn't said. Either ATI's drivers incorporate P965 support and MSI's simply the first company to react to the change, or MSI's board fools the driver into thinking it's connected to a 975X chipset.
The motherboard supports Intel's range of LGA-775 desktop CPUs, including the Core 2 Duo, across a 533, 800 or 1066MHz frontside bus. It can take up to 8GB of 533MHz or 667MHz DDR 2 SDRAM, or 4GB of 800MHz DDR 2, all in dual-channel mode.
There's a JMicron IDE controller on board to supply the peripheral connectivity missing from the Intel chipset. MSI's also added a JMicron 3Gbps SATA controller to add a seventh port to the six provided by Intel's ICH8R South Bridge chip, all of which support a variety of RAID configurations. The board also plays host to two Firewire ports, Gigabit Ethernet, legacy connectors, four USB ports and a variety of audio jacks, including S/P DIF input and outputs. ®
Related reviews
Shuttle XPC SD37P2 CrossFire-ready SFF PC
Asus P5B Deluxe Wi-Fi AP motherboard
Biostar TForce P965 Deluxe mobo
PowerColor ATI Radeon X1950 XTX