Toshiba readies revised HD DVD players
Samsung plans Blu-ray machine update too
Toshiba is to update its North American HD DVD player line-up, the company said yesterday, bringing the US-oriented products launch in March this year into line with the European models announced earlier this month.
Separately, it emerged this week that Samsung will update its BD-P1000 Blu-ray Disc player's firmware next month.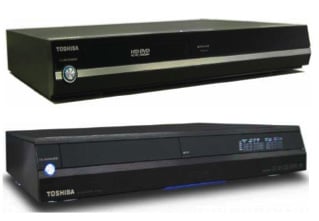 The US versions of Toshiba's HD-E1 and HD-XE1 will be called the HD-A2 and HD-XA2, respectively. Both machines will play not only HD DVD. DVD, DVD-R/RW, CD and CD-R/RW media but also combo DVD/HD DVD products. They're also slimmer than the previously released A1 and XA1 players.
The high-end XA2 will ship with an HDMI 1.3 interface and is able to support the 1080p HD resolution. The more mainstream-oriented A2 only runs to 1080i and HDMI 1.2a.
The A2 will ship next month for $500, while the XA2 will arrive in December, priced at $1,000. That compares with European pricing of €599 ($763) and €899 ($1,145), so it's clear North Americans are getting a much better deal that folk over here.
Samsung, meanwhile, will next month roll out new BD-P1000 software that improves the player's picture quality - thanks to a tweak to the machine's noise-reduction system - and adds Java compatibility - the latter a key component of the Blu-ray Disc specification's interactivity features, VideoBusiness.com reports. ®