Shuttle XPC SD37P2 CrossFire-ready SFF PC
Small yet powerful?
The case itself is very well built and it's in line with what I have come to expect from Shuttle. Amazingly, the company has managed to squeeze in a 400W power supply into the SD37P2 and that's how it can power two graphics cards. Noise levels were acceptable during the testing, although with two graphics cards fitted, it's not going to be quiet.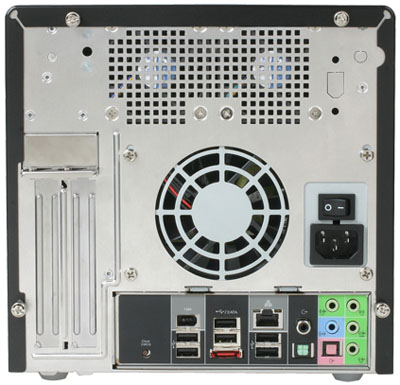 The SD37P2 is straightfoward to put together: just remove the hard drive caddies, lift out the 5.25 in drive bay and you've got access to the CPU cooler. This is fitted to one side towards the front of the chassis and is screwed into places with four spring loaded screws. It uses heatpipes to aid the cooling, and a fan is located on the left side of it that sucks the hot air out of the chassis. Two 40mm fans are fitted at the rear of the chassis, just above the PSU.
On the performance side of things the SD37P2 isn't quite as fast as the Intel D975XBX motherboard using the same Core 2 Extreme X6800 CPU and 2GB of Crucial Ballistix memory, but some of this could be down to the use of the slower ATI Radeon X1800 GTO graphics cards in comparison to a Radeon X1900 XTX. Nonetheless, the performance numbers are impressive for such a small system and with a pair of X1800 GTOs in CrossFire, this is a competent gaming system.
The downside is that the Shuttle SD37P2 will set you back £308 which isn't exactly cheap for what is pretty much a motherboard and a case. However, the SD37P2 is a very stylish system and if you have the money to spare it is definitely worth a look. The only bad point apart from the limited expansion options, is the high price.
Verdict
Shuttle has once again proven why it's the leader in the SFF market. The SD37P2 is the first SFF barebone to offer the ability to run CrossFire. It also offers excellent overall performance and its only real downfall is the fairly steep price tag. ®

Shuttle XPC SD37P2 CrossFire-ready SFF PC
Small yet powerful, this SFF PC is marred only by its high price...