Shuttle XPC SD37P2 CrossFire-ready SFF PC
Small yet powerful?
Review The SD37P2 is the first Core 2 Duo-ready small form-factor XPC from Shuttle, but it has far more than support for Intel's latest processor on offer. For anyone looking at building a high-end SFF system, the SD37P2 supports ATI's CrossFire - the first SFF PC to do so - although you're limited to single slot cards. Is this the most powerful barebone from Shuttle as yet?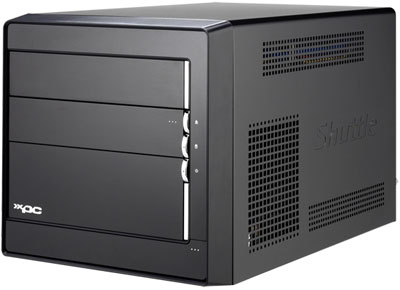 The SD37P2 is based on the Intel 975X chipset, which has become very popular in high performance Core 2 Duo setups. As you'll see later on, there's no doubt that this is a very fast system and enthusiasts will be happy to know that there were no problems using a Core 2 Extreme X6800 with the Shuttle.
Besides the four memory slots and the two x16 PCI Express slots there's little else in terms of expansion inside the SD37P2. You can fit up to three hard drives, although one of those would take up the floppy bay as well as a single 5.25 in drive. Shuttle has changed the mounting for the two top-mounted hard drives as they now have to be screwed into aluminium cradles. Gone are the plastic clip-on brackets - although they where easier to use, but Shuttle claims the new mechanism makes for better cooling.
I'm not entirely sure why Shuttle has used L-shaped SATA connectors for the hard drives, as you have to fit these through small holes in the side of the chassis and it means the cables get bent at very odd angles. It's not entirely easy to fit the cables either. The SATA power cables are much easier to fit and have a small handle at the back which gives them a good grip.
There are only three internal SATA connectors and a single IDE connector, so there's little choice but to use SATA hard drives with the SD37P2. The fourth SATA connector is around the back of the chassis and allows for an ESATA drive to be attached. This is a clever approach for a small chassis like this and allows for fast external storage to be attached easily. There are no less than six USB 2.0 ports around the back as well as a six-pin FireWire port, an Ethernet connector for the on-board Gigabit Ethernet controller and a vast selection of audio connectors.
There are four analogue 3.5mm audio jacks for 7.1-channel sound as well as a line in, optical and coaxial S/PDIF out and finally optical S/PDIF in. Around the front underneath a flap you'll find a headphone and microphone jack as well as a further two USB 2.0 ports and a four-pin FireWire connector. There's really very little missing, and Shuttle also offer an optional USB Wi-Fi solution which fits inside the chassis.