Arnie terminates drivers with hands-on cell phones
Keeping California safe - but not yet
California is to ban the use of cell phones by drivers in a moving vehicle unless they are using a hands-free device.
But not yet.
Gov. Schwarzenegger today signed the bill which comes into force in July 2008 for private drivers and July 1, 2011 for drivers of commercial vehicles who use push-to-talk handsets. The fines for getting caught are derisory: $20 for a first offence and $50 for repeat offenders.
In a state where you can get fined $1,000 for dropping litter on the freeway, this is a huge deterrence.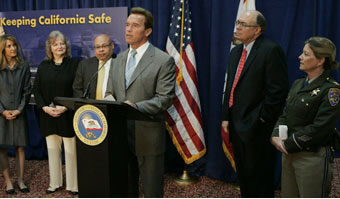 The gap between deeds and words is also huge. Speaking today in front of a poster emblazoned 'Keeping California Safe', Schwarzenegger proclaimed: "The simple fact is it's dangerous to talk on your cell phone while driving. CHP (California Highway Patrol) data show that cell phones are the number one cause of distracted-driving accidents. So getting people's hands off their phones and onto their steering wheels is going to make a big difference in road safety. The 'Hands-Free' cell phone bill will save lives by making our roads safer."
The governor also thanked Sen. Joe Simitian, D-Palo Alto, who has campaigned for several years to get this bill on to the statute books.
So why take so long to get going, and why are the fines so small? The answer to the former is that this will give the Department of Motor Vehicles time to update its manuals and also it will give drivers time to get used to the idea. Which doesn't sound very plausible. As for the latter, it is possible that behind the scenes lobbying by the CTIA, which represents the US cell phone industry, has been in play.
In public, only Sprint-Nextel opposed the bill, but it is joined in its antipathy by many fellow members of the CTIA. In a position paper on the matter, the CTIA notes: "such legislation is ineffective, most likely has a negligible impact on safety, and obscures the greater issue of driver distraction. In addition, law enforcement officers in all 50 states already have the ability to cite drivers for reckless or inattentive driving."
It cites crash data from several states which "shows that wireless phone use is a factor in less than one per cent of accidents". How much less than one? A law that reduces road crashes by say, half a per cent, at the cost of at worst mild inconvenience, strikes us as a reasonable law.
The Way We Live Now
Even if CTIA members are agin the restrictions of use of cell phones while driving, why are they fighting this? The cost to the industry, in lost voice or data minutes, will be negligible. And Bluetooth earpieces will sell by the truckload. People who don't have hands free handsets, can always pull over and park the car, or use their phones when they have finished their journey.
Three other states, New York, New Jersey, Connecticut, and Washington, DC have enacted hands-free cell phone bills. Many more are expected to follow suit. ®