Samsung touts CDMA, GSM, JCDMA 'world phone'
Multi-band, multi-mode
Not for Samsung the simplicity of offering a phone with quad-band GSM support to allow the handset to be used all around the world. The South Korean giant today unveiled a device capable of connecting not only to GSM but also to CDMA and JCDMA networks.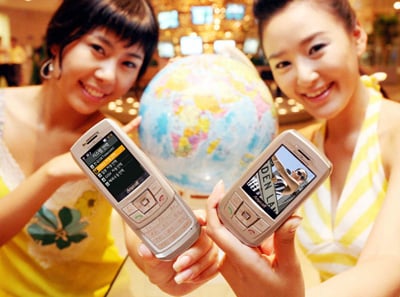 The SCH-V920 - also known as the World Phone - will be offered to South Korea Telecom customers. It's a 1.5cm-thick slider phone with a 1.3 megapixel camera, Bluetooth and the now obligatory MP3 player software. It also relays traffic data to motorists, courtesy of Korea's NATE Drive service.
The handset's primarily pitched at Koreans who travel frequently to Japan - one of the nation's most popular destinations, Samsung said. Hence the JCDMA support. The GSM radio will allow users to connect through European networks, while CDMA is on board not only for local usage but also to make and take calls in North and South America.
The phone comes in grey, red, silver and white and costs KRW500,000-600,000 ($522-626). ®