Asus P5B Deluxe Wi-Fi AP motherboard
Core 2 Duo ready
Review There's no place for loyalty and fond feelings in a serious reviewer's armoury but based on their past few generations of hardware it's difficult not to expect great things when Asus create a new motherboard then prime your salivary glands by hitching the word 'Deluxe' after the model number.
With the buzz from Intel's recent Core 2 Duo launch still resonating, we continue our mini-series of P965 powered motherboard reviews with the ASUS P5B Deluxe.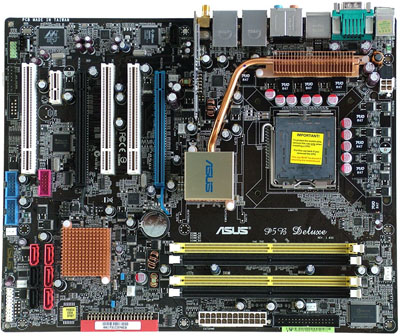 The P5B is a board dominated by highs and lows. By that I mean high performance, high quality, low power consumption and low noise, or at least that's the claim. The power saving and cooling features are fairly obvious and come mainly thanks to a variety of BIOS options and of course the fan-less heatpipe bolstered passive North Bridge cooling. This can be boosted with a supplied clip-on cooling fan, though Asus doesn't recommend you do this unless your CPU is being passively or liquid cooled for fear it will interfere with airflow.
Then there's Stack Cool which apparently draws the heat away from hotter components and transfers it to the reverse side of the board, though Asus fails to mention where it goes from there. Metal cases will no doubt radiate some of it into the room but aside from that I doubt there's much of a cooling breeze to be had back there. There's also Q-Fan which is simply the ASUS take on existing load-based thermal fan speed management.
The CPU is fed by an eight phase power circuit which generally means cooler and more reliable operation along with extended component life. Unlike some motherboards the P5B Deluxe uses a proper eight phase setup with eight discrete lines but this is an area where it's all becoming a bit of a numbers games and we shouldn't automatically assume that more phases is always a good thing.
The board is built on a chocolate brown coloured PCB with refreshingly sombre pale yellow, black, white, red and blue plastic work. The gold coloured heat pipe and sinks add enough bling for Asus' tastes without needing gaudy fluorescent plastic everywhere and for what it's worth I agree, the effect is more class and less clash.