Irish panto star's phone diatribe wows cyberspace
Estranged hubby cops an earful - and then some
NSFW A veteran Irish actress has become an overnight internet sensation after a message she allegedly left on her estranged hubby's answer machine inexplicably found its way into the public domain.
Panto queen Adele King, aka "Twink", is evidently not a woman to be messed with - as ex David Agnew found out to his cost.
According to The Times, 45-year-old oboe player Agnew had an affair with 29-year-old clarinetist Ruth Hickey, which put paid to the former's marriage with the 54-year-old King.
Hickey later had Agnew's baby, which apparently prompted the now-legendary phone call. We cannot, for reasons of legality and simple public decency offer readers either the tape or a transcript of it, but net wags' reaction to the diatribe gives a pretty clear indication of the kind of language involved.
For example, try "Twinksoft AbuseOS", courtesy of The Snackbox Diaries: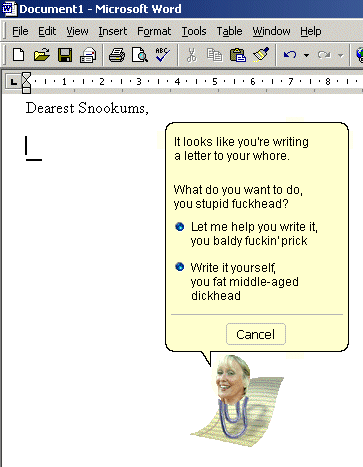 Crikey. For the record, the balance of web opinion seems to be in favour of Twink in this matter. It's possible, of course, that the blogosphere is simply avoiding even the remotest possibility of getting a call from the battling pantomimestress. ®
Sponsored: Becoming a Pragmatic Security Leader