Germans hand EC evidence on Intel
All Markt up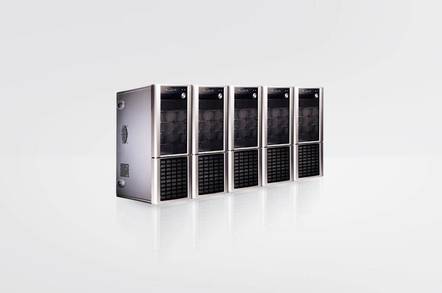 AMD vs Intel The EC's anti-trust probe of Intel is growing and taking on a German flavor.
European regulators have agreed to investigate claims made by AMD that Intel persuaded Metro AG to make sure PCs sold at its Media Markt stores had Intel Inside only. German anti-trust officials were already been looking into the matter and have now handed off their findings to the EC.
AMD has long maintained that Intel used unscrupulous tactics to ensure that server and PC makers and retailers shied away from AMD's processors. Intel, by contrast, has argued that it competed fairly.
Since AMD launched its anti-trust action against Intel, the company has managed to make large market share gains in the PC and server segments. Companies such as Dell, IBM and Supermicro have abandoned their very pro Intel positions in favor of selling a broad mix of products from both vendors.
Officials in the US, Asia and Europe have all been looking into AMD's claims.
"Intel's illegal exclusivity agreement with Media Market is another recent example of what those in the industry have known for years - that Intel abuses its super dominant monopoly in order to perpetuate its iron grip on the industry," said Thomas M. McCoy, an EVP at AMD. "Intel's hidden agreements with Metro AG have not only manipulated the market to Intel's own advantage, they have deceived consumers across Europe by depriving them of the choice of the best products at the best prices." ®