Armageddon website puts apocalypse on hold
It's not the end of the world: official
Those among you who are increasingly concerned that the end of the world is indeed nigh - as evidenced by natural disaster, war, plague, famine and the increasingly unpredictable behaviour of Naomi Campbell - should rush over to Countdown to Armageddon where you'll find just about everything you ever wanted to know but were too afraid to ask on the imminent Armageddon.
As the blurb explains:
In the last few years the world has gone from one Earth-shaking crisis to another. While some say that we are on the threshold of a Brave New World Order, others warn that humanity now totters on the brink of unprecedented disaster & chaos!

...

And the world stage is now being set for the fulfillment of one awesome vision that many of these seers had in common: an event so cataclysmic that it will change the World as we now know it for ever...the final apocalypse, Armageddon!
Blimey. There is, mercifully, some evidence that the apocalypse may have been put on hold: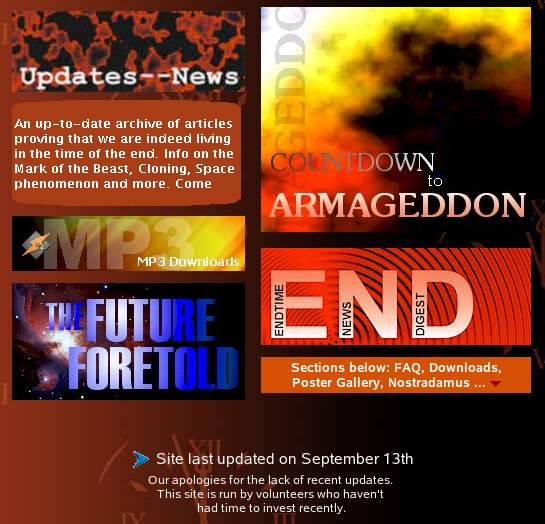 We can only assume that the website's volunteers have gone off to their Montana fortified bunker to lock and load in preparation for the Antichrist's inexorable ascent to world domination. As Nostradamus put it:
In a dark corner of the great sea of knowledge,
Some will warn against the beast,
Their travails will be many,
And in the end they just get bored and bugger off to Montana.
Bootnote
Thanks to James Grant for the tip-off.