Sony preps widescreen sat nav units
Irate drivers to favour new Nav-U's gesture control?
IFA 06 Sony will update its Nav-U GPS-based route-planning product in November, the consumer electronics giant said today. It promised the upcoming widescreen NV-U80 and NV-U81T gadgets will deliver better-than-the-rest accuracy for speed and location.
Sony called its system Position Plus. Essentially, it's a series of back-up sensor that provide the Nav-U's on-board computer with additional positioning data when the GPS signals aren't up to scratch - when your driving under a bridge, in a tunnel or between tall buildings, for instance. Sensors include integrated acceleration and pressure monitors to measure speed and altitude.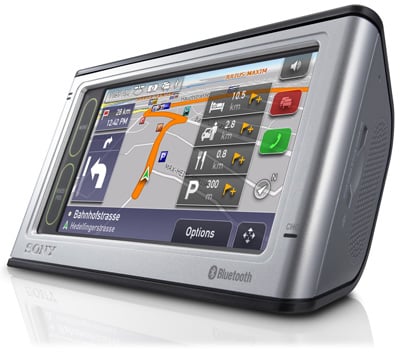 Map and route information are displayed on the NV-U80 and NV-U81T's 4.3in touch-sensitive widescreen display. Sony said it has added gesture control to the gadgets: swipe your finger over the screen in a certain way and you'll trigger commands like 'finder the nearest petrol station', for example.
Sony said the new Nav-Us also support Bluetooth for hands-free calling. The NV-U80 contains 512MB of Flash storage and will ship with one of a range of single-territory maps. The NV-U81T has a 4GB hard drive on which Europe-wide maps are pre-installed. It also bundles a Traffic Message Channel subscription, something that's an optional extra with the NV-U80.
Both machines will ship in November. Sony did not disclose pricing. ®
Related reviews
Fujitsu Siemens Pocket Loox N100 handheld GPS
CoPilot Live 6 for Symbian
Mio A701 GPS smart phone
Navicore Personal 2006/1 smart phone GPS
IFA 2006: complete coverage
Hitachi spins up DVR-friendly perpendicular HDD
Linksys ships Wi-Fi VoIP phone in Europe
Philips calls up PC-free Skype phone
Samsung readies rival digital music service to iTunes
LG shows off skinny HSDPA clamshell
Pretec unwraps 8GB SD card
Blu-ray Disc launch line-up revealed to Europeans
Sponsored: Detecting cyber attacks as a small to medium business