Pretec unwraps 8GB SD card
FAT32-formatted whopper
IFA 06 Solid-state memory specialist Pretec has unveiled what it claims is the highest capacity SD card in the universe. Beyond that, who can say? We can be clear, however, on one point: the card contains 8GB of raw, information data storage capacity.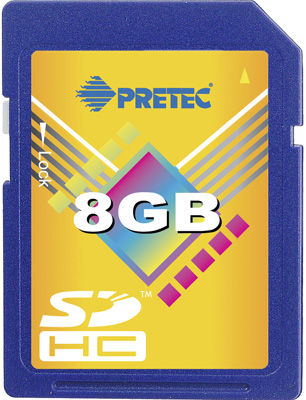 It's no great surprise to learn the 8GB card is based on version 2.0 of the SD card specification - also known has SDHC. It provides an access speed of up to 2MBps, and is formatted using the FAT32 file system. As such, it's incompatible with regular SD 1.1-capable devices.
Right now, the card doesn't come cheap. Pretec is selling it for a whopping $299, but to be fair it's only sampling the technology to its industry customers. The card is scheduled to go into mass-production in Q4.
4GB SDHC cards from a variety of vendors are due to ship over the coming months. ®
IFA 2006: complete coverage
Hitachi spins up DVR-friendly perpendicular HDD
Linksys ships Wi-Fi VoIP phone in Europe
Philips calls up PC-free Skype phone
Samsung readies rival digital music service to iTunes
LG shows off skinny HSDPA clamshell
Sony preps widescreen sat nav units
Blu-ray Disc launch line-up revealed to Europeans
Sponsored: Detecting cyber attacks as a small to medium business