Dell kits out XPS 700 gaming PC with Core 2-class CPUs
Order backlog cleared?
Dell UK has formally upgraded its XPS 700 gaming machine to include Intel's Core 2 Duo and Core 2 Extreme desktop processors, dropping the Pentium D chip the system was originally specified with.
Prices for the Core 2 incarnation of the XPS 700 start at £1,099 inc. VAT and delivery, Dell UK said today.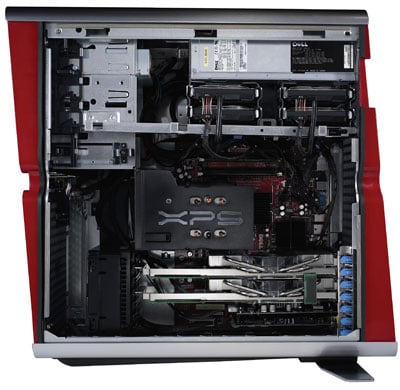 The XPS 700 was launched in May this year, but by the end of the July, the system had still not shipped to buyers. At that time, Dell said it had begun building the PCs - though not necessarily shipping them - and soon after told customers they could expect a free processor upgrade to Intel's next-generation architecture.
Reg Hardware readers report that they have now received their XPS 700s, and today's announcement suggests Dell's progressing toward the clearance of the backlog, if it hasn't cleared it already.
In addition to the Core 2-class CPU, the XPS 700 contains an Nvidia nForce 590 SLI chipset and a range of one- or two-card Nvidia graphics options. Ageia's PhysX physics acceleration card is an optional extra too. Buyers can order up to 4GB of dual-channel DDR 2 SDRAM clocked at up to 667MHz and up to 2TB of hard drive storage.
The unit has integrated Gigabit Ethernet and two Firewire ports - one at the front, one at the back. There are ten USB ports too: two on the front of the case, six round the rear and two more on the inside of the case. The whole shebang's powered by a 750W PSU. ®