PowerColor ATI Radeon X1950 XTX
(Another) world's fastest graphics card
Review Although today is only the paper launch of the long anticipated ATI Radeon X1950 XTX, it's worth waiting until 14 September when you can actually buy one. Not only is it ATI's fastest card, but it's also incredibly affordable and, thanks to a new cooler, it has put the noise problems the plagued past ATI cards behind it...
PowerColor kindly supplied us with the first review sample of the Radeon X1950 XTX, beating ATI to the task. If this is any indication how good the GPU's production yield is, there shouldn't be any shortage of X1950 XTX cards once they officially shipped next month. The only (slight) worry is ATI's move to GDDR 4 memory, which isn't yet available in mass production quantities, but should be shortly if one is to believe Samsung.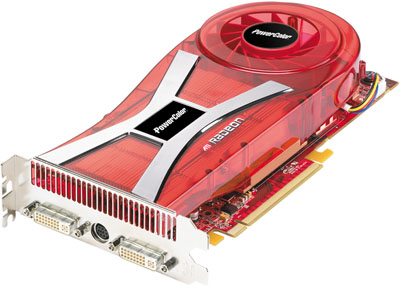 The X1950 XTX has the memory clocked at no less than 2GHz which is a new record for graphics card memory. The core is clocked at 650MHz, just like the X1900 XTX, but the extra memory bandwidth has given the GPU a very healthy boost in performance. ATI claims gamers will see speed gains of up to 15 per cent speed gains over the X1900 XTX thanks to the faster memory. Like its predecessor, the X1950 XTX contains 48-pixel shaders and eight vertex shaders.
The X1950 CrossFire edition will offer identical performance to the XTX, not the as yet unreleased XT version as was the case with the X1900 series.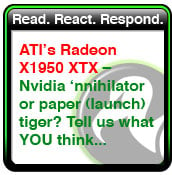 This is all great if you're a first-person shooter junkie and wat to be able the squeeze every last bit of performance out of your graphics cards. But one of the best features of the Radeon X1950 XTX is the new cooler. It's whisper-quiet most of the time, except for the rare times when it spins up to push some of the hot air out the back of the system through the vent on the two-slot bracket. This didn't appear to happen more than once every 15-20 minutes, and the X1950 XTX remains one of the quietest high-end cards on the market.
However, this new cooler seems to be made from solid copper and it has made increased the weight of the card quite a bit. It also utilises a heatpipe, something that previous ATI coolers haven't needed. This draws the heat away from the GPU to a heatsink inside the fan ducting, which makes for faster heat dissipation as it's exhausted out the back of the PC. This should allow for an overall cooler running system than with previous ATI cards.
Besides this, there isn't much new to report - except for the performance numbers of course. The test platform consisted of an Intel Core 2 Duo X6800 processor, an Intel D975XBX motherboard, a Western Digital Raptor X hard drive, 2GB of Crucial Ballistix DDR 2 memory and a Tagan 580W PSU.