JCB set for world speed record
300mph digger
The world's fastest JCB is on course to beat the world speed record for a diesel vehicle later today at the Bonneville Salt Flats, Utah.
Okay, it's not actually a digger. JCB Dieselmax is a specially-designed car/cigar tube but is powered by two JCB engines. The nine metre long carbon composite vehicle uses two five litre digger engines to produce 750 brake horse power, which have already pushed the car beyond 300 miles per hour.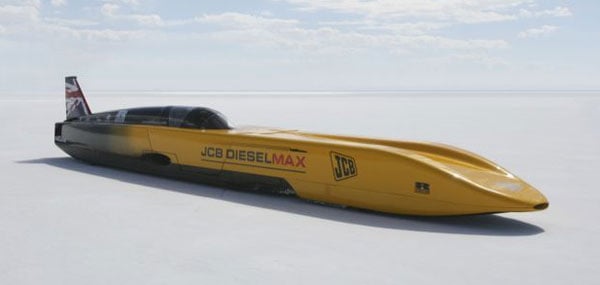 The aerodynamics were worked out using computational fluid dynamics rather than the traditional wind tunnel. This was because the size of the car meant they'd have to use a sixth-scale model, which could have introduced errors. The other difficulty was studying what happens where the wheels hit the road, as this would require a rolling road.
Digger company JCB decided to design and build its own engines in late 2004. For the record attempt the team are using a standard engine block and cylinder head, but a special fuel injection system and redesigned pistons. Extra cooling has also been added.
The car will be driven by ex-RAF pilot Andy Green.
The current record, set in 1973, is 235mph.
There are video clips, detailed specs and updates at the team's website.
Bootnote:
Reg reader Stuart emailed to remind us that Andy Green already holds the world speed record for driving Thrust SSC at 763mph, details here.®
Sponsored: Practical tips for Office 365 tenant-to-tenant migration