Samsung sleek speaker-sporting MP3 player spotted
Touchscreen control too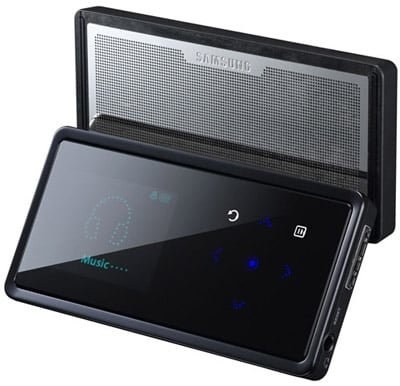 Samsung has revealed it will demo a digital music player equipped with a built-in speaker at next month's IFA show in Berlin. Or will it? Google has revealed some tantalising glimpses of the player missing from the page the online advertising broker's search engine links through to.
The YP-K5 is fitted with up to 4GB of Flash memory and plays the usual array of audio formats, along with Linux-friendly Ogg files. There's an FM radio on board too, and the player features Samsung's 3D audio Digital Natural Sound engine (DNSe) for "full basses and a full sound".
The player's controlled by touchpad and incorporates a battery capable of powering music playback for up to 25 hours. The speaker hinges off the back the player.
Whether the YP-K5 turns up at IFA remains to be seen, but Akhibara News has some pics here. ®