HTC roadmap 'leak' signals Muse music phone revival?
Shame it all looks so fake...
Rumours of the demise of HTC's 'Muse' music phone - the one equipped with 4GB of on-board NAND Flash storage, just like an MP3 player - may have been greatly exaggerated: the device is simply being renamed and rescheduled for a Q4 2006 launch. And it's no longer a 3G device.
Well, that's if an allegedly leaked HTC roadmap is to be believed. Upcoming handsets listed include HTC's integrated GPS device, 'Artemis'; the company's low-end candybar smart phone, 'Oxygen'; 'Trinity', an HSDPA PDA phone; and 'Excalibur', the company's alleged BlackBerry beater.
Before continuing, we should say that the quality of of the slides is poor and even includes pictures clearly taken from a variety of websites. Why HTC would included pictures taken from leaked copies of internal documents rather than official shots, we can't say, and it calls into question the validity of the alleged leak. So does the poor, inconsistent typography. Read what follows with a pinch of salt.
According to the leaked slides, Muse is now known as Melody. As before, it's got a 2.8in, 240 x 320 display, 64MB of RAM, Wi-Fi and Bluetooth. Past leaks suggested it was a 3G device, possibly with HSDPA, but the latest report only mentions quad-band GSM/GPRS/EDGE connectivity.
Melody's due in Q4. The current quarter will see the arrival of Excalibur, with its QWERTY microkeyboard, 802.11b/g Wi-Fi and quad-band EDGE connectivity. It will be joined by Oxygen, which is already known to form the basis for Orange's upcoming SPV C100. Oxygen is down as a quad-band EDGE phone with Wi-Fi, a 1.3 megapixel camea and a 2in, 176 x 220 display.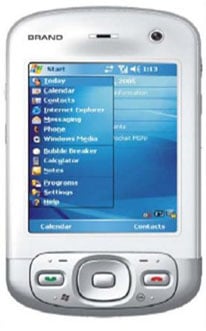 Trinity has 3G on board, plus HSDPA for faster downloads. It's a quad-band EDGE phone too, and has 802.11b/g on board. According to the leak, the handset features a built-in GPS receiver too. ®