Apple's other Duo-branded laptop
It's 1992 and the PowerBook Duo has just been announced...
Forgotten Tech Even as Apple appears to be preparing to adopt Intel's Core 2 Duo mobile microprocessor, let's not forget the Mac maker's earliest portable computing products with the Duo brand: the PowerBook Duo 210, 230 and 270c.
Introduced in October 1992, the Duos were Apple's attempt to attract buyers after a notebook that not only offered solid performance but was a darn sight more portable than the feature-packed notebooks of the time. Back then, that meant ditching the integrated floppy disk drive and many of the standard Mac I/O ports, and adopting a slimline casing.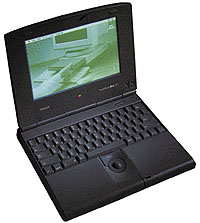 Equipped with Motorola's 68030 CPU clocked to 25MHz (210) and 33MHz (230 and 270c), the Duos shipped with 4MB of RAM and 80-240MB of hard drive storage. The 210 and 230 incorporated 9in, 640 x 400, 4-bit greyscale LCD panels, while the 270c had an 8.4in, 640 x 480, 8-bit colour display. The 270c also contained a maths co-processor chip, a part absent from the other Duos.
The Duos were offered alongside the DuoDock, a desktop chassis into which the portable slipped. It provided enhanced video options, the missing floppy drive - these were pre-optical days - and SCSI support. Less well-remembered is the MiniDock, a simply plug-on port replicator designed for folk who didn't want such a full desktop system.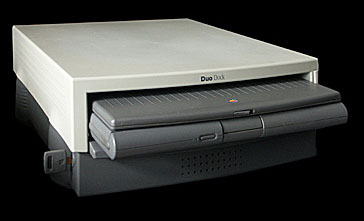 The Duos were wonderful machines for sub-notebook fans but largely failed to win the support that notebook buyers gave to Apple's standard, fully featured PowerBooks. The 210 and 230 were killed off 12 months after launch with the arrival of the 250, which offered an active-matrix monochrome screen and more hard drive space. The following April, it too was given the chop, replaced by the 280 and 280c, the latter doing for the 270c. The 280 and 280c dropped the old 68030 CPU in favour of the faster 68LC040.
In the summer of 1995, Apple introduced the Duo 2300c, the first PowerPC-equipped Duo. It was killed in February 1997. The following May, Apple introduced the PowerBook 2400, a sub-notebook co-designed with IBM. ®
There's much more on Apple's past products at the Apple History website