3dfx's quad-GPU Voodoo5 board offered to bidders
Never-released 6000 card eBayed
A never-shipped 3dfx Voodoo5 6000 AGP graphics card has popped up on eBay to tempt fans of historical GPUs. Speaking of fans, this boy has four of 'em, one each for the four VSA-100 graphics chips the board sports - along with 128MB of frame-buffer memory.
The full-length card requires a 3.3V AGP slot should the successful bidder care to try the thing out. It also requires a power feed from the host system's PSU. Later incarnations of the card were bundled with their own, external power supply brick. The GPUs are clocked to 166MHz.


The Voodoo5 6000 on eBay
3dfx was founded in 1994 and went on to define the market for dedicated gaming graphics engines. It launched its first product, Voodoo Graphics, in October 1996. It launched the Voodoo3 3500 in July 1999, with the Voodoo4 4500 and Voodoo5 5500 coming the following year. The much-hyped Voodoo5 6000 never made it to market.
By the end of 2000, however, it had run into trouble. In November, it said it was ending in-house card production, and the following month it closed its doors and its assets were sold to Nvidia for $112m. Nvidia had been named as a possible buyer for the stricken 3dfx earlier that year, after the two came to blows in a long-running clash over intellectual property.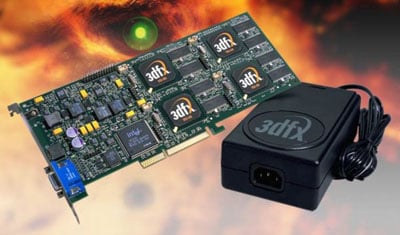 The Voodoo5 6000 as it might have shipped
All that's left are dust and echoes - and the occasionally old Voodoo board on eBay, of course. If you want to bid for this piece of gaming graphics history, you can do so here. ®