Chinese man trademarks Zidane headbutt
Mark up for grabs for $125,000
A Chinese entrepreneur has registered an image of French captain Zinedine Zidane headbutting Italian defender Marco Materazzi in last month's World Cup final as a trademark for clothing, shoes, hats and beer products, according to reports.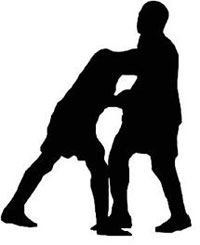 Zhao Xiaokai hopes to sell the mark for US$125,000, reports Chinese news site Xinhua Online. The image is a silhouette, apparently in an attempt to avoid infringing Zidane's image rights.
Zidane has fought to protect his image rights before. Last year he and four other soccer stars – David Beckham, Luis Figo, Raul and Ronaldo – joined their club, Real Madrid, in filing infringement suits against seven online bookies that allegedly used their names and images in online marketing material without consent.
It is possible that Zidane and Materazzi will argue that Zhao has no rights to trademark the head-butt image, even as a silhouette, given they arguably are still recognisable.
In the UK, the law of passing off can sometimes be used to prevent a celebrity's image being used overtly to promote a commercial product. The closest the UK courts have come to recognising a "celebrity right" was racing driver Eddie Irvine's success against talkSPORT in the High Court in March 2002, although the decision was consistent with existing principles. It simply recognised the commercial value of personal endorsements.
In Irvine's case, a promotional brochure was sent to less than 1,000 people advertising radio station Talk Radio, with a photo that had been doctored to show Irvine holding a radio bearing a Talk Radio logo, instead of a mobile phone, which he was holding in the original photo.
Copyright © 2006, OUT-LAW.com
OUT-LAW.COM is part of international law firm Pinsent Masons.