Whatever happened to... Mac OS X Leopard?
Spotty debut - but what's to come?
Piles
Piles is Apple innovation that it first demonstrated 14 years ago. Three years ago it was touted for inclusion in Panther, and we took the opportunity to discuss it with Gitta Salomon, one of the designers.
The researchers described Piles as "a less rigid categorization system" than folders. Testers liked the concept because it gave them more organizational flexibility in two important ways. Piles were used to defer categorizing items into a hard hierarchy - particularly useful for incoming stuff - and were more easily browsable than folders, too.
Here are a few illustrations from the CHI'92 paper of what was a work in progress.
Clearly, more work was required for the research to be put into a product, but Apple disbanded its famous HIG (Human Interface Group) a couple of years later.
Click the thumbnails below for a taster.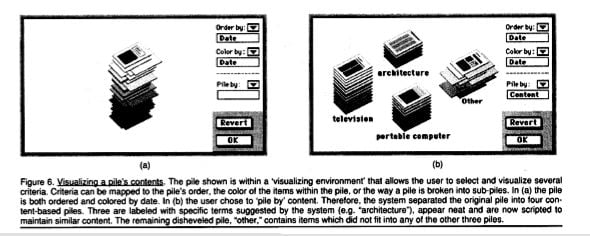 Early experiments gave piles their own containers...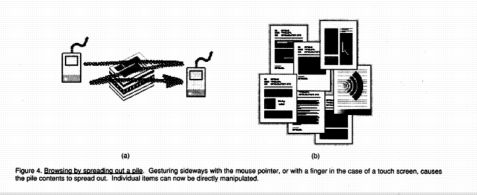 A method familiar to Expose users, giving miniature views of documents in a pile</
You'll find this familiar from Expose: a "miniatures" view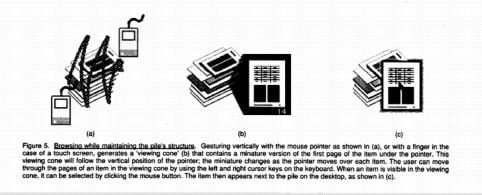 Browsing a pile and pulling out a page or document
One thing Piles needed was system level search - which Mac OS X now has, of course, with Spotlight.
Piles would be a return to the "spatial" interface Apple pioneered with the original Mac UI. There are many more minor tweaks that could be made to improve the Finder, but this is the most radical, and innovative. Perhaps too radical for today's users?
Throw out the remote
Wintel has been unable to make the Media Center anything more than a marginal success. As we've said before, for certain demographics, like bedsitland, the idea it makes sense.
And yet with HDTV bearing down on us, and the market awash with HDMI-ready TVs, there are obvious opportunities.
For example, how many remote controls do you have in the living room? There's probably one for the set-top box, one for the TV itself, one for the DVD player, and probably one for a VCR and a TiVO. Each is bewilderingly complex, and a full set of these bristles with around 300 buttons. Why would anyone add yet another box and remote?
There are practical reasons why Apple would be equally wise to avoid a full frontal assault on the living room: features are more likely to be subsumed into a set-top box, cheaper and faster than a computer company (Satellite and cable companies already offer TiVo-like features) could build them.
However in enthusiasts' homes, the Mac Mini already serves as a DVD player and a media recorder, one that hosts the music and photo collection. If Apple could figure out a way to control the TV too, then it could plausibly sell the kit on the basis that it simplifies technology, rather adding to the digital detritus that's rapidly piling up in our homes.
Triple play bundles - where a service provider offers TV, phone and internet - are most likely the way that most households will receive their entertainment streams, and it makes little sense to launch a movie service over traditional broadband, when you can partner with a 100Mbit/s fiber provider.
Financial analysts who follow Apple expressed disappointment that Jobs didn't use the WWDC to launch Apple's widely anticipated movie download store. But timing is everything.
You'll also notice that Apple has wisely stayed out of the largely bogus debate about "net neutrality".
This may not be a coincidence. Steve Jobs has little incentive in giving Google a subsidy.
It's unlikely that come next Spring Leopard will look as spotty as it does this week. But whether Apple chooses to launch technology in search of a problem, or better technology that fixes some problems, we'll have to wait and see. ®
Sponsored: How to get more from MicroStrategy by optimising your data stack