PS3 to require 'adaptor' to use PSOne, PS2 memory cards
Support not built into $699 console
Sony's PlayStation 3 will play "thousands" of PSOne and PS2 titles, the company has claimed, but if players want to carry over saved games, they'll need to obtain a memory card adaptor first, the Sony US PS3 website has revealed.
The PS3 saves game-state data on its 20GB or 60GB hard drive as "virtual memory cards", the site indicates. Information held on physical memory cards taken from PSOne or PS2 machines has to be copied to a virtual equivalent before the PS3 will read it. To copy a card, you'll need an adaptor, the site adds.
Presumably, the adaptor Sony has in mind will connect up to one of the PS3's USB ports. Bizarrely, the 60GB PS3 has a memory card reader built in, but according to Sony's published specifications, it only accepts Memory Stick, Compact Flash and SD cards - not PSOne and PS2 memory cards.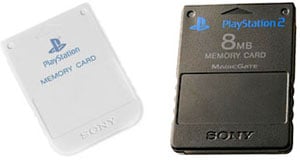 What Sony doesn't say is if it will bundle said adaptor with either variety of PS3. Third-party adaptors - used to save PlayStation memory card data to other types of card or to a PC - cost around $20, so if Sony does expects PS3 buyers to cough up extra to bring their PSOne and PS2 games to the new console, consumers can at least look for alternative products. ®
Sponsored: Detecting cyber attacks as a small to medium business