With a VM created - manually or using a Wizard - it's a matter of starting up the VM, inserting the guest OS' own installation disc and loading the operating system into the virtual hard drive. Windows XP installed smoothly, as did its Service Pack 2 update. Parallels has provided a set of drivers to tie key Mac hardware components into the guest OS, and these are installed once you've got the guest OS up and running. With XP, these Parallel Tools add graphics, mouse and trackpad, network, shared folder support to allow data-sharing between operating systems, and other drivers.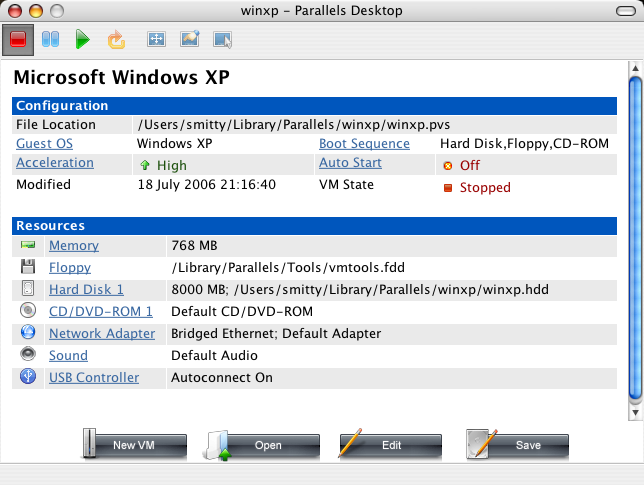 The upshot is that you can get up and running quickly and smoothly. The downside is you're tied to Parallels' virtual hardware design. There's no driver for the MacBook Pro's integrated webcam, for example, or for its Bluetooth adaptor. But then my MacBook Pro's trackpad worked perfectly, right down to tapping with two fingers to emulate a right-button mouse click. The XP VM uses the host machine's internet connection, but whether Mac OS X talks to the outside world across a LAN or a wireless link, XP always assumes it's on a fixed network. Your optical drive appears as a CD-ROM/DVD-ROM - there's no burn capability.
Some of these hardware features can be tweaked - you can set the network bridge to connect specifically to the host Mac's Ethernet or AirPort adaptors, for example. Most users, I suspect, will stick with the default settings.
Sponsored: How to simplify data protection on Amazon Web Services