Vodafone preps 'super 3G' modem for MacBooks
HSDPA over USB
Vodafone has responded to calls from MacBook and MacBook Pro owners for a compatible version of its 3G Mobile Connect Broadband Datacard with a USB version of the gadget which it pledged to ship in the autumn.
Vodafone's HSDPA-equipped Mobile Connect 3G Datacard does feature Mac support, but since it's a PC Card device, it's not compatible with the MacBook and MacBook Pro notebooks, which use the new ExpressCard 34 slot for add-ins.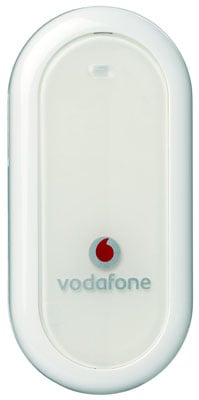 The USB model provides the same connectivity: download speeds of "around 1.4Mbps" and upload speeds of up to 384Kbps. Vodafone's 3G network covers the M25 area, the West Midlands, Glasgow, Liverpool, Sheffield, Greater Manchester, Bristol and Tyneside. The carrier said to hopes to extend the network to cover three-quarters of the UK population in a year's time.
Alas, Vodafone applies a so-called 'fair use' 1GB limit on the volume of data users can transfer back and forth across its 3G network in any given month.
There's no word yet on pricing - Vodafone said it will reveal all closer to the launch time. ®
Sponsored: How to get more from MicroStrategy by optimising your data stack