HTC 'Blackberry beater', Excalibur, surfaces on web
Chop, chop
Ladies and gentlemen, will you welcome please HTC's up-coming BlackBerry-like Windows Mobile-based smart phone, 'Excalibur', rumoured to be in the works for a while now, but this week finally appearing in the flesh in a piccy posted on the web.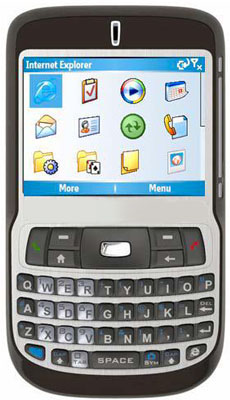 According to details sent to website Smartphone Thoughts, Excalibur's a quad-band device with Wi-Fi. No great surprise there - it's just what you'd expect from a modern HTC handset. What is interesting is the strip you can just see to the right of the screen. Apparently, it's touch-sensitive and works in place of the jog-wheel sported by Blackberries and Sony Ericsson's upcoming M600 smart phone.
There's no word yet on when Excalibur will ship. ®
Related reviews
HTC TyTN 'super 3G' smart phone
Orange SPV M600 PDA phone
i-mate K-Jam Windows Mobile PDA/phone
i-mate Jasjar PocketPC phone
Sponsored: What next after Netezza?