EVGA unveils water-cooled GeForce 7950 GX2
Quad SLI-ready
Graphics card maker EVGA has formally announced its Black Pearl-branded water-cooled GeForce 7950 GX2-based board. The product runs at 600MHz with its 1GB of DDR 3 memory clocked to 700MHz (1.4GHz effective).
That compares with EVGA's now-shipping e-GeForce 7950 GX2 'Superclocked' card, which clocks the GPU to 550MHz and the memory to 700MHz (1.4GHz effective). Available now, the Superclocked board is priced at €599 ($765/£409).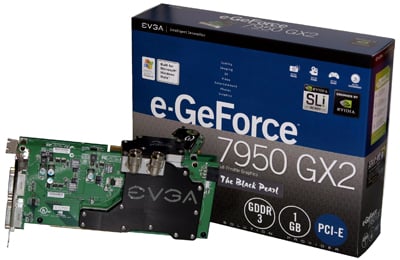 The Black Pearl version - which can also operate with second board in Quad SLI mode, thanks to Nvidia's recent driver release - will retail for around €899 ($1,148/£614) when it ships in the middle of August. The water-cooling rig reduces the core's temperature by over 20°C, EVGA said, allowing room for further overclocking. ®
Sponsored: What next after Netezza?