Directors blame Dell, Intel for Elonex collapse
Creditors' report details vendor's demise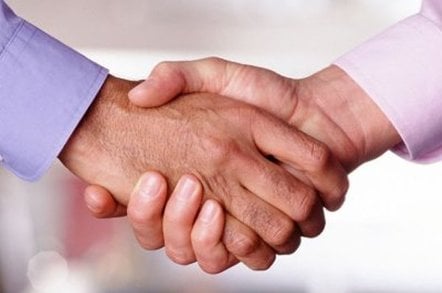 The directors of renowned British PC maker Elonex Plc have blamed US giant Dell and its team mate Intel for its collapse last month.
Elonex went down owing nearly £18m last month. The administrator's report received by creditors this week revealed that £10.7m was owed to unsecured creditors, but only £2m of this is likely to be paid back.
Directors Gideon and Israel Wetrin set out their reasons for the London-based firm's collapse in the creditors' report.
"Low prices from Dell have caused our target retail customers such as PC World and Comet to defocus from [us]," the Wetrins said in their financial statement.
The report also appeared to blame Dell for making: "Difficult competition led by US policy to support American organisations over local manufacturers."
This referred to Dell and Intel, said Gideon Wetrin, speaking to The Register.
"Dell and Intel are very close. They've arrangements that are not to anyone's benefit. Ask anyone in the industry," he said.
Elonex's creditor's report explained how it had tried to survive: "It was felt that it was necessary to find a new niche that would protect us from increasingly aggressive practices from the US where product would often be dumped."
The British PC industry has been quick to blame collapses like that last year of its biggest player, Granville Technology, on unfair competition from Dell. One complaint is alleged to have been made to the European Commission about Dell, but it was never confirmed and British manufacturers appear loathe to air their grievances publicly.
A European Commission investigation into alleged anti-competitive practices by Intel led to raids of Dell's offices last year.
There were other nails in Elonex's coffin, however. IT budgets were slashed in health and education, leading the PC makers' sales in the public sector to plummet three quarters to just 1,000 units a month.
The cancellation of the government subsidy, the Home Computing Initiative, in March, removed £8m of planned revenues.
But the the clincher was the removal of credit by Elonex's suppliers and financiers.
Distributor Computer 2000 issued a winding up order on 24 May to claim £51,075 of debt that Elonex had accumulated since March 2004. Then on 30 May HSBC Bank issued a demand for £1.9m.
Total debts were £17.7m. Trade creditors were owed £4m. Total assets available to preferential creditors were £9.5m. Employees were owed £0.6m.®
Sponsored: Minds Mastering Machines - Call for papers now open