Satellites reveal coral reefs' exposure
Safe zones just too small
A new satellite survey of coral reefs has shown that less than two per cent of them are within environmentally protected areas.
A team of international researchers compiled the data using a collection of NASA satellite images of Earth. The goal was to update the Millennium Project, an inventory of so-called "marine protected areas" - places where human activity is limited by law in order to protect the ocean environment.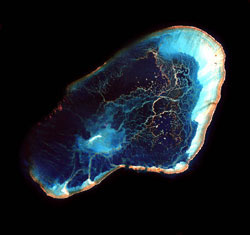 Coral reefs have been described as the rainforests of the oceans. They play a vital role in the health of the sea, supporting a huge variety of species. They are, however, extremely fragile, and are sensitive to tiny enviromental changes.
The study revealed that although overall the number of protected areas has increased since 2003, the protection afforded to coral reefs is still very small.
In addition, most of the protected zones are too small to offer meaningful shelter to many species of fish, whose natural ranges regularly take them outside the safe zone.
"This research points out how much still needs to be done to protect coral reef ecosystems," said Frank Muller-Karger, one of the developers of the Millennium Project at the University of South Florida's Institute for Marine Remote Sensing.
"Creating large reserves such as the new Northwestern Hawaiian Islands Marine National Monument is just such a step in the right direction."
This zone, which was created in June this year, is the largest marine protected environment in the world. It includes approximately 4,500 square miles of relatively undisturbed reef habitat. ®