Heatwave causes internet humour brown-outs
Needed: Irony tags and cold water
Record temperatures have been recorded in California and Europe over the past week, with power outages returning to the Golden State for the first time since the Enron era.
But it isn't only the electricity supply that's failing. A commodity that's as rare online as water in the desert, irony, appears to be suffering severe shortages too.
Here are two examples. Are they a trend?
Our first example is a witty prank by John Graham-Cumming, chief scientist at Electric Cloud. He mimicked a programming technique known as recursion to post the same entry to two news aggregators at the same time, each referencing the other.
Recursion is when a function calls itself. If the "stop condition" isn't met, the function calls itself indefinitely - until the computer runs out of stack space. So a submission headlined "Recursion defined - see Reddit" was posted to Digg, while one headlined "Recursion defined - see Digg" was posted to Reddit.
Digg claims to harness "the collective wisdom" of the crowd, but in this case it appears men behind the curtain intervened to hide the post, which was one of the most "Dugg", or popular, of the day.
Graham-Cumming then discovered that his Digg user account had been cancelled. He was barred.
On his blog, John describes it as sense of humor failure, but it's more than that.
Inadvertently, it's a delightful satire of the Digg groupthink that we've encountered before. A crowd with one mind has no room for self-awareness, humour or irony - and can be remarkably thin-skinned.
But groupthink isn't just an accidental by-product of the "Web 2.0" sites, it's designed into the system. As one Reddit poster noted:
"When the latest Digg redesign launched, it started spiralling down towards the farthest depths of idiocy. Digg commenters were always on the juvenile side, but the final straw for me was forty-odd comments just sniggering about the number sixty-nine.
"With Slashdot, maybe a joke like that would get +5, Funny, but the rest of the people making the same stupid joke would be at -1 where I don't see them. With Digg, some kid sees a stupid joke, mods it up, sees the same joke underneath, and mods that up too, and carries on modding up dozens more."
Now, to our concern, the condition of humorlessness has even affected some of you.
Yesterday we reported on Wikipedia, the comic institution.
A school in Nebraska has filed suit to identify who made disparaging remarks about it on Wikipedia. Elite administrators swiftly deleted the old entry, and replaced it with a new, fault-free entry which only registered users could edit.
After only six days, the clean entry already contained a seriously howler - placing Nebraska in Canada. Which prompted us to run this infographic:.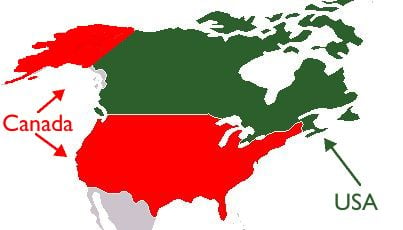 It wasn't long before sharp-eyed readers spotted something was amiss.
"You screwed up the map in your Skutt article," Christopher Bowen advised us.
"The red is labeled as 'Canada', and green as the 'USA'. Only one problem:" he said, before smacking the Enter key twice for added emphasis:
"You have them reversed."
The corrections continued to pour in.
"Is your 'handy reference' an obscure joke?" asked reader Teemu Leisti.
"If so, I certainly don't get it."
He had similar advice:
"In reality, Canada is the country you've coloured in green, and USA the one coloured in red."
A Wikipedian discovers a geographical discrepency [click for link]
"Whoops. Where's Canada again?" asks Chris Noble, who continues -
"Unfortunately there appears to be some confusion in the labelling. Of course, if this error had occurred in Wkipedia I would have been able to nip straight in there and fix it up. Since it is in a publication controlled by professionals, I guess we'll have to wait for the correction."
Yes indeed. But doubt creeps in seconds later.
"I full [sic] acknowledge that there may have been some über-ironic intent here, but if so, you hide it well."
That, Chris, is the core of the problem. Irony shouldn't be hidden - it should be standing in the middle of an open cornfield, on top of a large step ladder, with large purple flares attached to each ironic arm. Then no one could miss it.
We had high hopes for an idea suggested by former journalist Dan Gillmor, who mooted the idea of an "honor tag" for online writing. An honor tag could prove everything the writer wrote could be taken at face value, free of all those messy ambiguities.
See Are you trying to be funny? If so check [ ] this box.
This, we believe, was inspired by our earlier suggestion of marking different attempts at humor in different colours, which we suggested more than five years ago.
See The Color of Irony.
Alas, it was never implemented, and like Gillmor's honor tags, lies sadly neglected in the exciting world of Web 2.0. In the intervening years, there have been some tragic misunderstandings.
Have you experienced sudden sense of humour failures in your online neighbourhood? They're usually accompanied by equally sudden surges of self-righteousness.
Let us know. And stay cool out there.®
Sponsored: Becoming a Pragmatic Security Leader