Intel Core 2 Duo vs AMD Athlon 64 FX-62
Ding! Ding! Round One...
Review Although Reg Hardware published benchmarks for the new Intel Core 2 Duo and Extreme chips almost two weeks ago, it has taken that long for Intel to launch the product formally. If you've got the cash, you should be able to pick one up today. But the question many folk - particularly those with a preference for AMD's processors - are still asking is, why? There's no doubt that Intel has produced an impressive successor to the Pentium D, but can it beat AMD's latest offerings?
We should point out that we wanted to include full benchmarks for AMD's Athlon 64 FX-62 in our Core 2 Duo review. AMD, alas, was unable to supply us with one for testing. Too busy buying ATI to make any chips, eh, lads?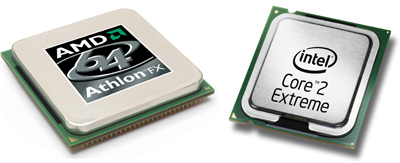 So, to give you an idea of how much faster the Core 2 Duo architecture is, we've compared our benchmarks from the Core 2 review with those we recorded for our FX-62 review. The numbers aren't directly comparable because we used slightly different system configurations. And there's the matter of platform differences. However, the FX-62 system only used 1GB of memory, compared to 2GB for the Core 2 Duo. This is likely to have the biggest impact on the overall performance scores presented here, and judging from past experience this would have an positive impact on the Intel chip's SYSMark 2004SE in the region of around five points.
The hard drive would have an impact on the scores as well, as the Core 2 Duo setup used a Western Digital Raptor X rather than a Caviar SE16, and the extra speed is likely to add a couple of points too. The remaining differences, such as graphics card - an ATI Radeon X1800 XT vs the X1900 XT used in the Intel test – won't have such a big impact on the more general-purpose application benchmarks we've compared.
We reckon the Intel benchmarks have a systematic advantage of around ten SYSMark points. However, even if you add 20 points for good measure to the overall SYSMark 2004SE score, the FX-62 doesn't come close to even the E6700, much less the X6800. This doesn't mean that the new Intel processors will have such a huge lead in every application you run, but I can't see AMD winning many benchmark battles. As you can see from the PCMark 2005 and CineBench 9.5 numbers, AMD isn't quite as far off here, but it's still behind in everything except for the graphics test in PCMark 2005.