School sues over Wikipedia posts
Heading North
A high school in Nebraska, USA is suing over entries posted on Wikipedia - the website that "anyone can edit" that's popular with teenagers and the unemployed. Wikipedia itself isn't the target of the lawsuit from Skutt High School, nor are many of the sites that legally or illegally scrape Wikipedia's content.
The school has filed a John and Joe Doe lawsuit to identify the perps behind edits which, AP reports, "... include sharp criticism of Skutt principal Patrick Slattery, obscene language and a note about drug use by students."
"These particular edits were really harmful and mean-spirited," said Patrick Flood, a lawyer for Skutt told AP.
The offending entry for Skutt High School was replaced by a clean stub.
The edits were made between February and June this year, but the offending page was deleted and replaced with a "clean" stub, which was accorded "protected" status on July 22. Protected status means the entry can't be edited by anonymous users, or recently-registered users, leaving it in the hands of Wikipedia's elite.
Delightfully, however - and in true Wikipedia fashion - the new, minimal entry places the school, the town of Omaha, and the entire US state of Nebraska in Canada: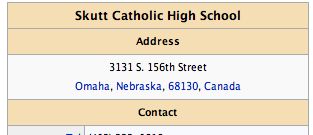 So much for protection. To help the elite administrators tending to the revised Skutt entry, we're including this handy reference.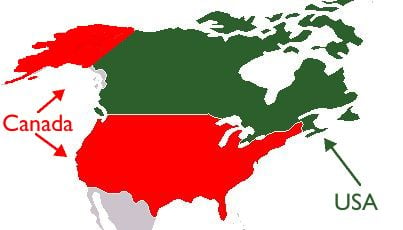 Wikipedia's place in the public consciousness as a source of unreliable information and trivia turf wars was cemented today by satirical site The Onion, which reports how "Wikipedia Celebrates 750 Years Of American Independence" ("Founding Fathers, Patriots, Mr. T. Honored"). Here, or by clicking on the picture below:

Wikipedia's problems with vandalism have percolated to the top of the hierarchy within the organization. One of the most prominent evangelists for the site, Angela Beesley, recently resigned from the board of the non-profit that runs Wikipedia, the WikiMedia Foundation, in the hope of having her own entry removed from Wikipedia. "I'm sick of this article being trolled. It's full of lies and nonsense," she wrote recently. "Given that this was previously kept on the grounds I was on that Board, there is no longer any reason for this page to be kept. This has already been deleted on the French and German Wikipedias."
(With co-founder Jimmy Wales, Beesley remains on the board of the for-profit corporation Wikia, which recently received $4m in venture capital)
Seth Finkelstein, who recently tried to have his own entry from Wikipedia removed recently, described it as "a pretty stunning vote of no-confidence. Even at least some high-ups can't eat the dog food."
Like all those Romulan peace treaties from Star Trek, once you're in, you're in. ®