Samsung touts Vista-friendly Flash drive - again
Still not mass-producing the things, though
Samsung once again touted its NAND Flash-based solid-state disk (SSD) technology yesterday, pitching a 4GB product at notebook and desktop manufacturers developing systems to run Windows Vista. It said the 4GB SSD was being "readied for production".
Which means, of course, it's not being made at the moment, which implies, surely, the pledge Samsung made in May to ship SSD-equipped machines in June didn't quite come to pass, at least not beyond a small number of custom-made systems.
Samsung didn't say when expects SSD mass-production will begin. Much depends on the need computer manufacturers feel to increase their systems' bill-of-materials costs by adding in the units to take advantage of Vista's ReadyBoost data caching technology.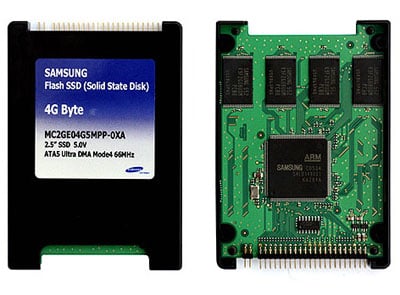 ReadyBoost stores frequently accessed data in the SSD - or alternative schemes for adding Flash to computers, such as Intel's 'Robson' technology - from where it can later be read 25-50 times faster, according to Samsung's numbers. The SSD connects across the host's ATA bus. ®