Nvidia GeForce 7600 GS-based fanless cards
Asus and eVGA set out their passively cooled wares
Review They may have been quiet but passively cooled graphics cards have generally been pretty poor performers or needed complex and costly heatpipe designs. But with the arrival of Nvidia's GeForce 7600 GS this has all changed, and you can get decent performance at a decent price without the decibels...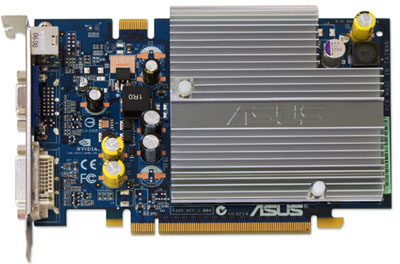 What we have here are that Asus EN7600GS Silent/HTD 256MB and eVGA's e-GeForce 7600GS 256MB w Passive Heatsink. Neither name is what you'd call catchy, but the important thing is that both cards have passive heatsinks to cool the GPUs. The implementation of the coolers on the two cards is different though, with eVGA choosing to use a reference cooler with a heatpipe, whereas Asus has fitted a larger aluminium heatsink which extends to the rear of the card.
eVGA has opted for a reference board design, while Asus has made some minor changes and coloured the board blue rather than green. Both cards offer DVI, VGA and TV-out ports. There are options for composite-video, s-video and component-video output with the help of bundled dongles. Neither card supports video input.
The default clock frequency of the 7600 GS is 400MHz and neither card vendor has changed that. Both cards have 256MB of 400MHz (800MHz effective) DDR 2 memory on a 128-bit bus, which is normal for mid-range graphics cards. Asus also offers a slower 512MB version of their card with the memory clocked at a mere 540MHz effective - sometimes more is less.
Both cards fit into a x16 PCI Express card slot on the motherboard and support SLI with a bridge connector. There's no need for any extra power connectors, as the 7600GS GPU doesn't draw more power than the PCI Express bus can deliver.