Intel Core 2 Duo dresses up for formal debut
Conroe coming out tomorrow
Intel will tomorrow formally unveil its Core 2 Duo and Core 2 Extreme desktop processors - all based on the 'Conroe' core - despite having been shipping the product to computer manufacturers for several weeks. The chip maker may also announce 'Merom', the notebook version of the chip.
The launch will see the arrival of four Duos - the E6300, E6400, E6600 and E6700 - and a single Extreme, the X6800. The five Conroes are clocked at 1.86, 2.13, 2.40, 2.67 and 2.93GHz, respectively. The first two contain 2MB of L2 cache, the rest have 4MB. The cache is shared between the processing cores according to demand. All five chips run on a 1066MHz frontside bus. The Core 2 Duos have a TDP of 65W, while the Extreme Edition consumes up to 75W.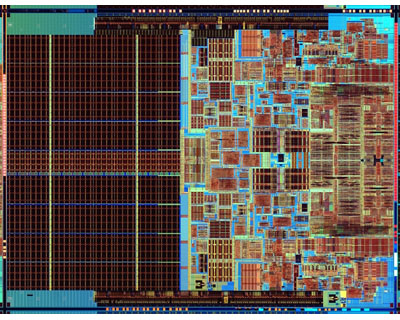 The X6800 will sell for $999 a chip when bought in batches of 1,000 CPUs. On the same terms, Intel is offering the E6300, E6400, E6600 and E6700 for $183, $224, $316 and $530, respectively.
The CPUs will support 64-bit addressing, Intel's Virtualisation Technology (VT) and the Execute Disable Bit anti-virus measure. They also feature what Intel dubs Advanced Digital Media Boost, which is essentially a way of accelerating 128-bit SSE instructions to they're issued in a single clock cycle rather than two or more.
Further out, Intel is expected to ship the Core 2 Duo E4300 early next year. This version drops the FSB to 800MHz and contains 2MB of L2. It's clocked at 1.8GHz.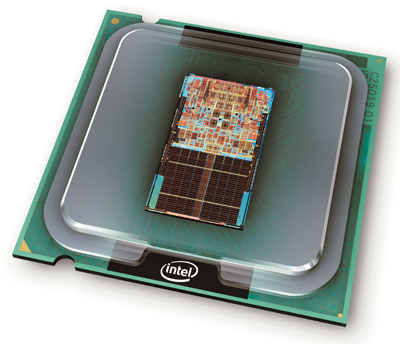 Intel's mobile Core 2 Duo - aka 'Merom' - will be out even sooner, and the chip maker may well announce the product tomorrow. Merom is expected to appear as the T5500, T5600, T7200, T7400 and T7600. The first two have 2MB of L2, while the 7000 series have 4MB. The five processors are believed to be clocked to 1.66, 1.83, 2.0, 2.16 and 2.33 GHz, respectively. ®
Read Reg Hardware's Core 2 Duo and Core 2 Extreme review here
Read our Core 2 performance preview here
Read our AMD Athlon 64 FX-62 and Socket AM2 review here