Ten gadgets to get you sacked
Vital ammunition for the office prankster
Tech Digest It's hot, your boss is evil, you never got that promised pay-rise. It's hot, your colleagues hate you, and you're fed up with sardine-like commuting. Oh, and did I mention it's really hot? What better time then to jack in your job to spend more time with your sofa, beer-fridge and television? But if you're going to go, do it with a bang rather than a whimper, and get your ass sacked. We've rounded up ten gadgets that should do the job...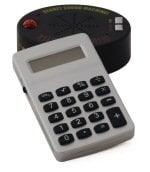 1. Office Prankster calculator
Do any modern offices still use calculators? I thought people had RSS-mathematics-reader technology for that kind of thing nowadays. Or Wi-Fi abacuses. Anyway, your boss is bound to get narked if you get this gadget - it consists of a remote receiver which you hide on their desk, and a transmitter disguised as, yes, a calculator.
Use it to trigger a range of sounds - wolf whistle, buzzing fly, an orgasm or, oh yes, a fart - or record your own 'YOU CAN STICK YOUR JOB' message. £12.99 from Gadgets.co.uk.
2. Beer machine
Most people keep old files, cycling helmets and discarded sandwich wrappers under their desks. They don't get fired. On the other hand, if you buy a personal mini-micro brewery and keep that under your desk, not only can you have 28 pints of home-brew to hand whenever you want (ie. 9.45am), but your desk will smell of "socks in cabbage water". A P45-earner if we ever saw one. £99.95 from BoysStuff.
3. Backwards clock
If your boss is a stickler for time, you could easily get sacked by turning up a couple of minutes late and blaming a freak dog-buttering incident. Or you could do it more imaginatively, by swapping their office clock for this mirror-image model, which ticks backwards. Just to mess with their heads, like. If they get really confused, they'll let the office go home early. Or just you (and never let you come back). £9.99 from I Want One Of Those.
4. Any old webcam
Note, this only works if you're Leslie Grantham.
5. Cyberman voice changer helmet
Because nothing makes a sales meeting go with a swing more than some idiot in the corner constantly interrupting in the voice of a Cyberman out of Doctor Who. This voice changer helmet converts your speech to Cybertalk, although there's also an option to spew out classic phrases like "You will be deleted" (best used every time you get rid of an email). Be warned, if your boss is a Dr Who geek, this may earn promotion and son-I-never-had status. £30 from the usual toy outlets.