Wi-Fi Skype phones to connect this month
Edge-Core joins Netgear, D-link, Linksys etc
Taiwan's Edge-Core will ship its first Wi-Fi phone with on-board Skype software at the end of the month, the company said today. The gadget uses Wi-Fi's Wireless Multimedia (WMM) add-on technology to enhance call quality.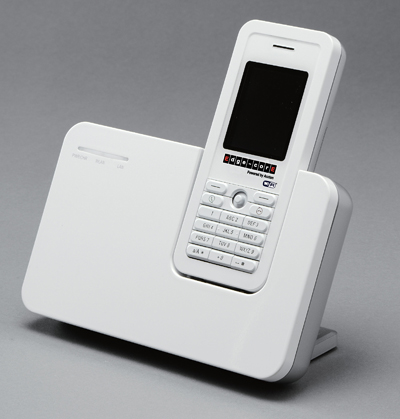 The WM4201 sports a colour display on which your Skype contacts, downloaded automatically, are displayed. It works with your Skype voicemail, SkypeOut and SkypeIn settings.
The handset connects to the internet across any 802.11b or 802.11g WLAN, though you'll need the latter to enable WMM's quality-of-service technology. The handset uses WPA and WPA 2 security technologies to keep calls confidential.
Edge-Core said it will also offer a Wi-Fi access point that doubles up as a recharge cradle for the WM4201. The company said both products will ship at the end of July. The handset will retail for around €199 ($249/£136) excluding sales tax. ®
Related review
Linksys CIT200 cordless Skype handset
Sponsored: Becoming a Pragmatic Security Leader