Microsoft to Google: get your tanks off our lawn
Enterprise search is not for the likes of you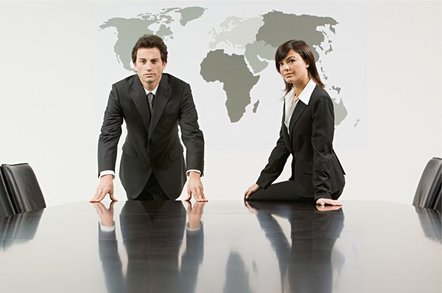 Kevin Turner, Microsoft's chief operating officer, fired a shot across Google's bows yesterday, warning the company to steer clear of enterprise search.
"Enterprise search is our business, it's our house and Google is not going to take that business," Turner told 7,000 delegates attending Microsoft's Worldwide Partner Conference. "Those people are not going to be allowed to take food off our plate, because that is what they are intending to do."
His tough talk followed chief executive Steve Ballmer's less confrontational, but somewhat outlandish, claim that everything is converging on search. "We are entering into a set of new markets [over the next 12 months], new for us," Ballmer said. "Business intelligence, the portal, workflow, content management, collaboration market. Everybody likes to call it something different, but that's really now one category, one market that we're entering in full force this year."
What's that market, Steve? "Search from the desktop to the enterprise to the internet is a business of great importance and a market of great importance to us."
Microsoft tackling the market by first re-branding its long awaited, and much-hyped, Windows Vista search feature to avoid confusion with Microsoft's internet property. Windows Live Search, for the desktop, is now Windows Live Search Center and will allow Windows Vista users to search data in Office and desktop system files.
Microsoft used WPC to wow partners with improved search in the upcoming Office SharePoint Portal Server 2007. Microsoft plans a set of connectors in a so-called Business Data Catalogue that enable users to search Microsoft's Dynamics customer relationship management and enterprise resource planning applications, plus software from rivals SAP and Siebel - now owned by Oracle.
Microsoft will expect partners to expand the catalogue with additional connectors to other applications.
Microsoft used its conference to demonstrate a strangely familiar capability of exporting customer names and addresses from these business applications for mapping and display using Windows Live Virtual Earth - either a re-branded Windows Live Local, previously MSN Virtual Earth, or just a presentational slip.
Salesforce.com already enables integration between customers' CRM data and Google Maps through the AppExchange service launched in January.
Microsoft demonstrated the ability to combine search of data with information about people who may be relevant to searches. SharePoint Server will achieve this by crawling through information about people in emails, Microsoft's ActiveDirectory, and links to SharePoint MySites.
The combination led chief Ballmer to enthusiastically comment that search and SharePoint Server 2007 are "kind of like a MySpace for real business use."
Kind of, Steve, but not really. ®