Some mammoths had 'ginger gene'
Look out for woolly bullies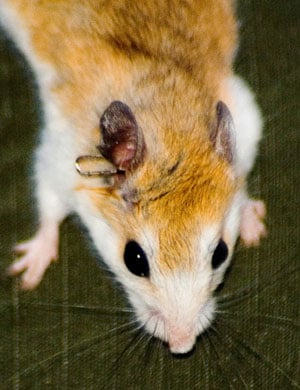 Ancient DNA has revealed some woolly mammoths had ginger or blonde hair thanks to the mutant gene which causes fair hair in humans.
Reporting in Science, researchers at the University of Leipzig extracted fragile fragments of mammoth DNA from a sample taken from a 43,000-year-old bone found in Siberia.
The team was able to amplify the melanocortin type 1 gene (Mc1r), which encodes a receptor protein that is key to determining hair colour. As well as being responsible for many a playground jibe, mutation of the gene causes the distinctive ginger hair of Highland Cattle.
The mammoth Mc1r sequences revealed three positions along the gene where individuals varied. Altered versions of the protein can have reduced activity, which causes pigmentation differences in hair.
To test if the mutations would have caused this, scientists inserted mammoth genes into bacteria to to produce both the fully functional and partially functional proteins.
They found that changes at one of the three variable positions would indeed have had reduced activity, so individuals carrying the mutation would likely have had lighter or ginger hair instead of the standard issue dark coat.
A companion paper from researchers at UC San Diego revealed a similar mutation in exactly the same position as one of the mammoth DNA changes, this time in beach mice (pictured). In their case, the prevalence of fair hair is likely to be adaptive; lighter colouring provides them better camouflage.
It's less likely that being blond or ginger gave mammoths any advantage or disadvantage - at around eight tons they would have been pretty easy to spot whatever their hair-do. ®