Yes! It's the USB missile launcher!
Kim Jong-il's favourite computer toy?
What with North Korea's recent rocketry shenanigans, Reg Hardware readers' revelation of what could be the silliest USB add-on yet couldn't have come at a less tasteful time. But what the heck, here it is, the USB-powered missile launcher.
Stop press! Multiple launches detected on many fronts... Read all about it!
The desktop deployment system comes pre-loaded with three foam rockets ready to be triggered by punching a virtual version of the infamous red button. You control the direction and angle of attack with your mouse. One click and - foom! - your officemates are toast. Unless they get you first.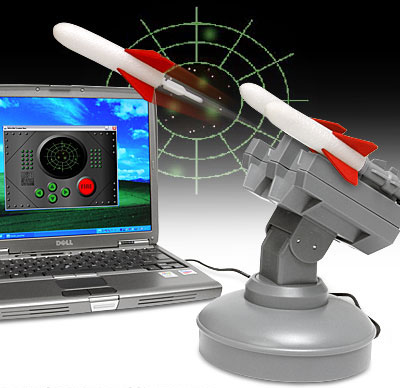 Bloody silly, but fun, and a snip at 30 quid from UK supplier IWantOneofThose.co.uk and other purveyors of bizarre gadgetry. ®
Thanks to reader Ted for the tip.