Medion charts budget sat nav kit revamp
GoPal PNA line-up unveiled
Medion, the company that revolutionised the European PDA market a few years back just by bundling GPS receivers and route-planning software with its PocketPCs, today unveiled its latest line-up of dedicated sat nav gadgets.
The GoPal PNA range comprises four models: the 210, 500, 510 and 515. All four ship with a street maps for the UK and Ireland, while the 510 also contains Western European cartography to which the 515 adds charts for Eastern Europe. The 510 and 515 ship with a free lifetime subscription to TrafficMaster's RDS-based traffic information system. Every machine ships with a voucher for a free safety camera and points-of-interest update download.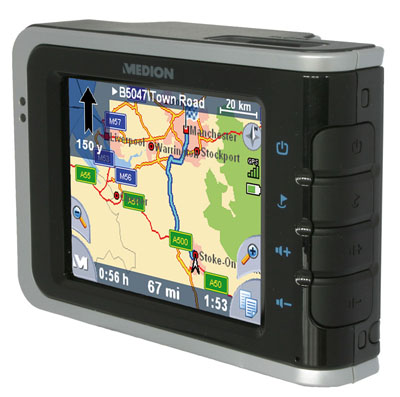 The 210 and 500 ship with 256MB memory card, while the other two come with 1GB cards. The 210 sports a 2.8in colour display while the others have 3.5in screens. They're all based on a 300MHz Samsung CPU. Unlike the other models, the 515 has Bluetooth on board to allow it to operate as a handsfree for a paired mobile phone. It also comes with a protective case.
The GoPal NPA 210 will retail for £150, rising to £200 for the 500, £270 for the 510 and £350 for the 515, Medion said. All four sat nav systems - which ship with car-mount kits - will be available shortly from Medion's online store and High Street retailers like Halfords, Asda and Makro. ®
Related reviews
Mio A701 GPS smart phone
Navicore Personal 2006/1 smart phone GPS