Sapphire ready to ship first HDMI graphics card
HDTV friendly
Sapphire has claimed to be the first graphics card maker to offer a board with a built-in HDMI port. The card is based on ATI's CrossFire-ready Radeon X1600 GPU.
The Radeon X1600 Pro HDMI's graphics core has 12 pixel pipelines and is connected across a 128-bit bus to 256MB of GDDR 3 clocked to 800MHz. The GPU runs at 500MHz. The board supports ATI's Avivo picture enhancement system.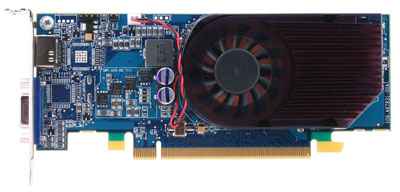 In addition to the HDMI port, the board has a VGA connector for backwards compatibility - there's a VGA-to-DVI adaptor in the box. The HD-oriented connector is linked to an HDCP chip on board allowing it to transmit copy-protected content. The card has in inside-facing connector for digital audio signals, which are then sent out through the HDMI port.
HDMI is already the de facto standard for connecting HD devices in the consumer electronics world, and it's gaining traction in the PC arena too, particularly for media applications. It's compatible with DVI, but supports audio as well as video. It's a much smaller, more convenient connector than DVI.

The HDMI specification was last week updated to version 1.3.
Sapphire said the board will go on sale next week at around the $155 (£85) mark. ®