Tosh pledges 4GB SDHC card in September
FATter card
Toshiba will next September release a 4GB SDHC memory card around the world, the Japanese giant said today. Based on the SD Card 2.0 spec, the 4GB card uses the FAT 32 file system and meets the standard's 4MBps Class 4 speed setting, though Toshiba said it will write at up to 6MBps.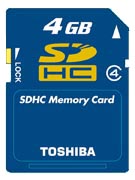 Toshiba's not the first to announce an SDHC card - Panasonic unveiled its product in March this year. Since then, Panasonic has announced a camcorder, the SDR-S150, that can take SDHC cards, as will its Lumix DMC-L1 digital SLR
Just recently Casio said its Exilim EX-Z1000 digital camera will support the new format. ®
Sponsored: What next after Netezza?